---
Who is Vic Fontaine?
Some day, when I'm awfully low, when the world is cold,
I will feel a glow just thinking of you... and the way you look tonight.

You are lovely with your smile so warm and your cheeks so soft,
there is nothing for me but to love you, just the way you look tonight.

With each word your tenderness grows, tearing my fear apart...
And that laugh that wrinkles your nose touches my foolish heart.

Lovely... never never change. Keep that breathless charm.
Won't you please arrange it? 'Cause I love you... just the way you look tonight.

Vic Fontaine of
Deep Space Nine
Vic Fontaine is the most famous singing hologram of the Star Trek universe. In many DS9 episodes he touched our hearts with his songs. The Way You Look Tonight was his final song aboard DS9 in the very last episode. He was a prominent singer who performed in the 1960s in the city of Las Vegas, United States. Vic's repertoire contains songs of his contemporary colleagues such as Frank Sinatra, Duke Ellington and Dean Martin.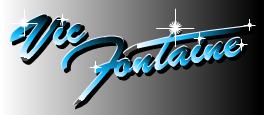 In 2374, an interactive recreation of Fontaine was featured in a holosuite program created by Felix for his friend Julian Bashir. This remarkable simulation not only captured Fontaine's personality and sophisticated singing style, but was self-aware, giving him an attitude appropriate for the period. Vic referred to himself, as well as to other holographic characters, as a light bulb.
The Fontaine hologram was designed to be highly perceptive of the intricacies of interpersonal relationships. Both Bashir and Odo found his advice helpful in their respective love lives.
Later, Vic got permission to be permanently activated as a reward for helping Nog out of his depressions.
James Darren
James Darren, a film actor, TV star, entertainer, director, was born James William Ercolani on 8 June 1936 in Philadelphia, Pennsylvania. A chance introduction to the legendary producer/ talent executive Joyce Selznick led to Darren's signing a seven year contract with Columbia Pictures. During his Columbia years, Darren made 19 films including Gidget. Darren played rich-kid surfer Moondoggie and returned to star in two of the sequels before going on to other projects. In Gidget, Darren sang two songs: the title tune and There's No Such Thing As the Next Best Thing To Love. Almost without intending to, he became a recording star. In the early 60s his hits included Goodbye Cruel World, which became number one in the country, as well as Angel Face, Conscience and Her Royal Majesty - every one of which made the Top Ten List.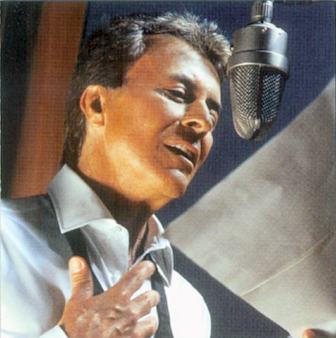 Darren continued to make films and in 1966 starred as Dr. Tony Newman in The Time Tunnel, his first TV series. When the show ended, Darren decided to concentrate on his singing. He teamed with comedian Buddy Hackett for what would become a ten-year partnership touring the country.
In 1983, Darren was offered the role of Jim Corrigan on the ABC TV series TJ Hooker. The part of Hooker was played by William Shatner, better known as Captain James Tiberius Kirk. Darren directed the final episode of TJ Hooker, which led to multiple TV directing jobs including Hunter, The A-Team, Hardball and Police Story.
James Darren was married to Gloria Terlitzky from 1955 until 1959, with whom he has a son. In 1960 he got married to his present wife, the former Miss Denmark of 1958, Evy Norlund. He has two sons with her. The son with his first wife is CNN anchorman Jim Moret. James took his current surname in 1959, inspired by the famous automobile. He was a close friend to Frank Sinatra and his family and is his granddaughter's - Angela Jennifer Lambert - Godfather.
James Darren Links
Autograph Address
James Darren
P.O. Box 1088
Beverly Hills, CA 90213-1088
USA
Filmography
1956 Rumble On The Docks (actor)
1957 Operation Mad Ball (actor)
1957 The Brothers Rico (actor)
1957 The Tijuana Story (actor)
1957 The Web (guest star)
1958 Gunman's Walk (actor)
1959 Gidget (actor)
1959 The Donna Reed Show (guest star)
1959 The Gene Krupa Story (actor)
1960 All The Young Men (actor)
1960 Because They're Young (actor)
1960 Let No Man Write My Epitaph (actor)
1961 Gidget Goes Hawaiian (actor)
1961 The Guns Of Navarone (actor)
1962 Diamond Head (actor)
1963 Gidget Goes to Rome (actor)
1964 For Those Who Think Young (actor)
1964 The Lively Set (actor)
1964 Hey There, It's Yogi Bear (actor)
1965 The Flintstones (guest star)
1966 Voyage to the Bottom of the Sea (guest star)
1966-67 The Time Tunnel (actor)
1969 Paroxismus (actor)
1970 City Beneath The Sea (actor)
1971 Mooch Goes To Hollywood (actor)
1975 The Lives of Jenny Dolan (actor)
1976 S.W.A.T. (guest star)
1977 Baa Baa Black Sheep (guest star)
1977 Charlie's Angels (guest star)
1977 Police story (guest star)
1978 The Boss's Son (actor)
1979 Hawaii Five-O (guest star)
1980 Turnover Smith (actor)
1981 Scruples (actor)
1982 Aliens from another Planet (actor)
1982-86 TJ Hooker (actor / director)
1983 The A-Team (director)
1984-91 Hunter (director)
1986 Stingray (director)
1987 Werewolf (director)
1988 Police Story: Gladiator School (director)
1988 Something Is Out There (director)
1989 Hardball (director)
1990 Beverly Hills, 90210 (director)
1992 Raven (director)
1992 Renegade (director / guest star)
1992-99 Melrose Place (actor / director)
1993 Walker, Texas Ranger (director)
1994 Silk Stalkings (guest star)
1995 Nowhere Man (director)
1996 Savannah (director)
1997 Diagnosis Murder (guest star / director)
1998-99 Star Trek: Deep Space Nine (guest star)
2000-02 Hollywood Squares (actor)
2001 Random Acts (actor)
This One's From the Heart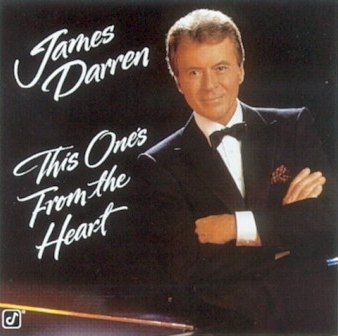 Deep Space Nine is over and most probably won't come back. But when you loved Vic and his songs, you can listen to them on the CD This One's From the Heart by James Darren. This One's From the Heart were Vic's words before singing The Way You Look Tonight in What You Leave Behind.
Tracks included on this CD are:
Vic Fontaine Episode Trailers
Advertising